ROMANIA
Contributor: Cristina Antonia Candea
Introduction: *
In Romania, Christmas is a very important religious and social festival. Ecclesiastically, Easter has a higher rank, but for the people Christmas was the most special event. Even and especially during communist times family members gathered, went to church and celebrated. The birth of Jesus in a simple stable must have always caught people's imagination and given them new hope. Also, its calendrical position at the end of the year makes Christmas very special. At this time people visit each other, going from house to house, singing carols. Persons who participate in this might sometimes be out for 24 hours.
At this winter time, the home grown animals were traditionally slaughtered, so meat, the main ingredient of the feasting, was readily available.
There are regional differences and several quite differing recipes for Christmas dishes throughout Romania. Here are a couple of recipes from the Romanian region of Moldavia in the east of the country. It was and still is very typical for Romanian women to plan Christmas cooking well ahead. There was also a thorough cleaning of the house (curatenia de Craciun), and recipes were discussed and exchanged, especially between mothers and daughters, mothers-in-law and daughters-in-law. No one would risk serving a dish at the Christmas table, which had not been proven to be good. It was quite common for women to get together to do the cooking or baking.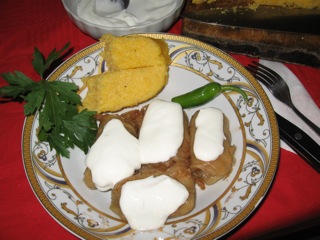 Photograph (c)2008 Marian Enciu
* (c)Copyright 2008 Cristina Antonia Candea, Helen Macbeth. Permission is hereby granted to reproduce and distribute copies of this Introduction to recipes for Romania solely for the purposes of non-profit domestic use or non-profit educational purposes in either case provided that copies are distributed at or below cost and that the author's source and copyright notice are included on each copy.