CYPRUS
Information gathered by Helen Macbeth from informants and one recipe book, Davies (1990) *
The cuisine of Cyprus results from an interesting mixture of influences from Lebanon, Greece, Turkey and Britain, because of the history of this Mediterranean island. The information I gathered was from informants originating from the Greek part of the island, where Greek influences (see the recipes for Greece) and those of the Greek Orthodox church are very evident. Advent is a time of fasting and, even today, this is maintained by many, by avoiding meat and other animal products, even dairy foods, up until midnight on Christmas Eve. Therefore, there is little feasting associated with Christmas Eve.
Then people feast on Christmas Day. Pork is the main meat associated with Christmas, for which, in traditional village life, the family-reared pig would have been killed. Every part of the pig would be made into some product, for immediate use or preserved in some way. At least one leg and some sausages would be smoked. Smoked loin, lounza, is a favourite at Christmas. The trotters and cheek would be boiled into brawn, etc.
One informant said that one dish associated with Christmas, using fresh pork, is stuffed vine leaves. She also mentioned egg-lemon soup (see recipes for Greece). On the other hand, she told me that turkey as in Britain was common, but that they themselves had roast lamb and potato salad for Christmas lunch. However, she referred to cinnamon and spices being used in her roasting. She also talked about pasticcio.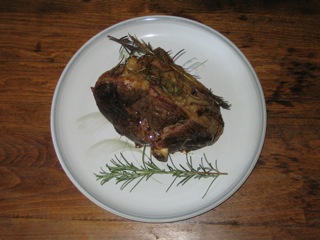 Photograph (c)2008 Helen Macbeth
As in the traditions of so many countries, baking for Christmas feasting is started weeks before Christmas, and in these too the different historical influences on Cyprus are found. British influence is found in the Cypriots' Christmas cake and Christmas pudding, which is similar to, but with slightly different ingredients from, the English one, and it is lighter and less rich. Other cakes and sweetmeats are also eaten at Christmas, such as Christocouloura, a circular bread into which a candle is put (compare this with a tradition in Serbia). There are also spiced buns dripping with honey, baklava, and some biscuits akin to British shortbread. One Cypriot informant told me that they had apple pie and custard for dessert on Christmas Day. What could be more British?
The Greek influence is found also in that St. Basil, not Santa Claus, brings gifts on New Year's Eve to be opened on January 1st (the feast day of St. Basil), and the Greek Vasilopitta (St. Basil's bread - see recipes for Greece) is eaten. The Cypriots also have the tradition of putting a coin in this Vasilopitta. The twelve days of Christmas end, as elsewhere, with Epiphany.
As no original recipes were submitted by the Cypriot informants, I can only suggest that readers might well be interested in the recipes in English by Davies (1990) *, who also discusses Christmas traditions.
* The source for some of this information is Davies, G. (1990) The Taste of Cyprus: a seasonal look at Cypriot cooking, Topline Publishing, England