GREAT BRITAIN
Contributors: Helen Macbeth and Mary Appleton
Introduction: *
At the beginning of the twenty-first century, it is not inappropriate to consider 'British' Christmas food in one section, whereas only a few decades earlier one would have had to make a distinction for Scotland, especially for the Highlands. From interviews in Scotland for this book I learned that, as in England, roast turkey, Christmas pudding and minced pies are the usual contemporary Christmas fare for most families in Scotland. This finding was supported by visits to Scottish supermarkets. Nevertheless, I was also told about the traditional Scottish black buns and clootie dumplings, which were more associated with Hogmanay (31st December) than with Christmas Day. For the post-Reformation Protestants in Scotland, Christmas festivities had been discouraged in previous centuries. In fact, even in my childhood, for many Highlanders, the 25th December would have been a work day, and the festive holiday was Hogmanay. Traditionally, in Scotland, there would be some entertainment on the 31st December until midnight, after which the visiting from house to house, the feasting and drinking would continue for the rest of the night. I experienced this only ten years ago in one of the more remote parts of the Highlands.
Nowadays, throughout the British Isles, Christmas Day is a holiday, which is generally celebrated with a family gathering at a main Christmas dinner. Differences exist, based mostly now on individual background and preferences, age groups of those in the family gathering, etc. as to whether that main Christmas dinner is eaten at lunch time, at late lunch time or early or late in the evening. In a few families with recent continental European ancestry Christmas dinner may still be eaten late at night on the 24th December, which was also an English custom a couple of centuries ago.
For most of Britain now, as demonstrated in the media and in supermarkets, roast turkey is the main dish of the Christmas meal. While many of us may think of the turkey as coming from North America, via the 'Pilgrim Fathers', in fact the domesticated turkey came from Mexico, via Seville, to England in the sixteenth century. This domesticated poultry went back across the Atlantic with early British migrants, and should be distinguished from the smaller, wild, North American turkey. Roasting a rich variety of meats for Christmas, including for some a turkey, had a long tradition in wealthy English families. Whereas 60 years ago turkeys were still an expensive meat, they are now easily afforded, especially the deep-frozen supermarket turkeys, although the fresh, free-range birds do taste better. The tradition is to serve Brussels sprouts and potatoes with the turkey. Only recently has the American cranberry sauce become fashionable, whereas a white bread and onion sauce would have been more traditional in England.
In France I have found that our 'plum pudding' is considered a joke about British food, which to me is incomprehensible. In Britain this pudding, since late in the nineteenth century, has become so traditional for Christmas that it is now known as 'Christmas pudding'. Anyway, it contains no plums, but is rich in raisins, sultanas, candied peel, nuts, sweet spices and some kind of alcohol. Then we have mince pies, also rich in dried fruits and spices, which may be served as an extra dessert at Christmas dinner or with the Christmas cake at afternoon tea on any or all of the 'twelve days of Christmas'. I should also add that many of us have an appetiser course with some seafood or salmon delicacy.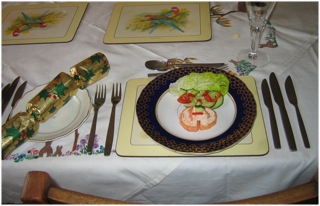 Photograph (c)2008 Helen Macbeth
A table laid for Christmas dinner, showing an appetiser of smoked salmon ring with salmon mousse filling. On the left is the traditional British 'cracker'.
For the main Christmas dinner, as many as possible of the family would gather and there would be an effort to check that no relatives or neighbours were on their own; the best china, cutlery and glasses would be used, and perhaps a special Christmas table cloth, and there should always be crackers. Crackers are paper tubes strengthened with cardboard, except where the cracker is gathered in at 2 places (see the picture above). In the centre of the cracker there should always be a paper crown, a slip of paper with a saying or joke on and a little gift. The quality of the little gifts vary greatly with cost of the crackers. There will also be a thin strip of cardboard running the length of the tube, with a midway joint which when pulled apart bangs (hence 'cracker'). At some point in the Christmas dinner, each cracker is pulled with one's neighbour at table. Crackers will always come apart at one of the weak gathered-in points, leaving a victor with the centre section, who gains the contents. Of course there is a sharing around so that everyone in the end gets a paper crown, etc. Such paper crowns are likely to be worn for the rest of the meal.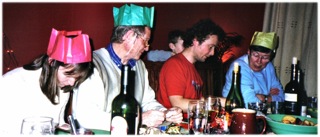 Photograph (c)2008 Helen Macbeth
* (c)Copyright 2008 Helen Macbeth. Permission is hereby granted to reproduce and distribute copies of this Introduction to recipes for Britain solely for the purposes of non-profit domestic use or non-profit educational purposes in either case provided that copies are distributed at or below cost and that the author's source and copyright notice are included on each copy.