Christmas Cake
This cake is a rich fruit cake with marzipan under the white icing.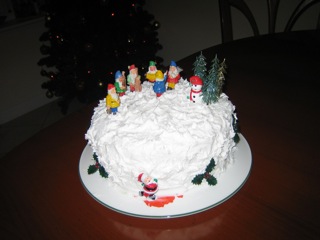 Photograph (c)2008 Helen Macbeth
Ingredients: (these vary between households, but here is an example, for which the measurements have been changed from imperial to metric.)

For the cake:
170 g butter (or margarine if preferred)
170 g soft dark brown sugar
200-220 g plain flour
11/2 teaspoon mixed spice (or a mixture of cinnamon, nutmeg, ginger, clove, etc.)
3 large eggs
About 150 g glazed cherries
About 150 g mixed candied peel (of citrus fruit)
1 tablespoon of black treacle
170 g sultanas
170 g raisins
170 g currants
Some chopped nuts (optional)
Some brandy or rum (as preferred)

For the icing:
1.5 kg marzipan (or less if preferred)
whites of 2 eggs
500-600 g white icing sugar (or more if needed)
2 drops of glycerine
1 teaspoon of lemon juice

Preparation:
Begin preparation at least 5 or 6 weeks before Christmas, or earlier if convenient. Soak the sultanas, raisins and currants in enough brandy or rum to cover the fruit for at least 2 days. When ready to prepare the cake mixture, drain the brandy or rum into a jar with firm lid and retain.
First, grease and line with greaseproof paper a round baking tin of 18-19 cm diameter. Beat the butter and sugar mixture together until creamy. Beat the whole eggs and gradually add these to the butter and sugar mixture with one tablespoon of the flour. Next, add the black treacle. Then gradually fold in the rest of the flour. Next, fold in the rest of the dry ingredients. Pour this mixture into the lined baking tin. Bake slowly in a low-moderate oven (140o-150o C) for about 2 hours. Do not open oven door for at least 11/2 hours, but then briefly check that the top of the cake is not looking burnt - if need be reduce temperature of oven. The cake is ready when a skewer put into the centre of the cake comes out clean. Take out of the oven and let cool. Then wrap the cake in greaseproof paper and then aluminium foil and put away in a sealed tin or plastic box for at least 4 or 5 weeks (or longer if convenient), but once a week open it and dribble a tablespoon of the brandy or rum (e.g. from the earlier fruit soaking) into skewer holes around the cake. Each time, wrap the cake up again tightly.
About a week before needed, press a thick layer of marzipan on to the top and around the sides of the cake. A couple of days before needed mix the "royal icing"; first beat the egg whites until stiff, gradually beat in the sugar, lemon juice and glycerine. The glycerine helps the mixture. Continue beating the mixture until one can make firm white points with the spoon. If the icing remains too soft, gently add in a little more icing sugar, if too firm add drops more lemon juice. Ideally put icing on in thin layers over 2 days, while retaining the icing mixture in an airtight container.
Decorate as desired with little models (sometimes made of marzipan, but often of plastic) usually making some seasonal scene. My sister in Australia put a model of Santa Claus on a surf board on her otherwise totally British Christmas cake!!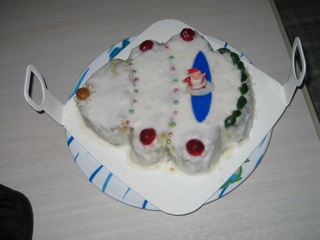 Photograph (c)2008 Helen Macbeth