Empanadilhas (Sweet Potato Pies)
Empanadilhas are primarily a dish from southern Portugal
Ingredients:
For the pastry:

For the filling:
250 g flour
250 g boiled sweet potatoes
1 tablespoon lard
250 g sugar
1 tablespoon butter or margarine
grated rind of 1 orange (or lemon)
1 egg
1 teaspoon powdered cinnamon
grated rind of 1 lemon
50 g to 100 g skinned and
orange juice
grated almond (optional).
1 tablespoon brand
fine salt to taste
oil for frying
sugar and powdered cinnamon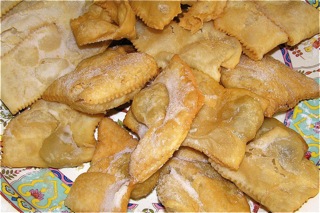 Photograph (c)2008 Sofia Martins
Preparation:
Sift the flour into a mixing bowl. Make a well in the centre and pour in the lard, butter, egg, brandy, grated rind of lemon and a little salt. If necessary, add a drop or two of orange juice. Cover with another bowl and a cloth and leave the dough to rest for 15 minutes.
Heat the sugar in 1 dl of water and boil until the syrup threads. At this point, add the almonds and boil a little more. If almonds are not included, remove the sugar from the heat, and add the sweet potatoes. Stir well and return the mixture to the heat. Add the grated orange or lemon rind and the cinnamon. Boil the mixture until you can see the bottom of the pan. Then leave the mixture to cool.
Break off pieces of the dough and roll them out into thin rectangles. Place little heaps of the filling on the strips keeping them well apart. Fold the pastry over the filling either as squares or cut the squares into triangles using a very sharp knife; seal the edges. Fry these pies in hot oil (175º C). While they are still hot, dip them in sugar and cinnamon.