Česnica - The Christmas bannock
Ingredients:
1 kg wheat flour
12 g of baking powder
4 teaspoons of salt
2 spoons of oil
some tepid water
the coin
Preparation:
Mix the baking powder into the flour and then add the tepid water, salt, and finally the oil. Make the dough and leave it to rest. Preheat the oven to 220o C. Then insert the coin into the dough and form the česnica into the shape of a bannock; puncture the surface decoratively with a fork. Grease a baking tin, adding a little flour, and bake the bannock for a total of 40 minutes, starting at 220o C. and decreasing to 180o C. at about half time. When it is baked put it in a cloth or towel and leave it there for a while, before bringing it warm to the table. At the beginning of the meal the host breaks the česnica into parts.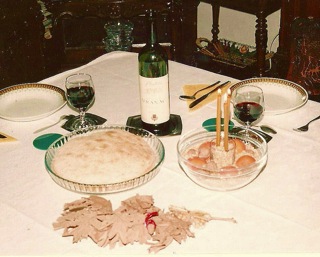 Photograph (c)2008 Sinisa Trkulja
Notes about the picture:
The česnica is on the left; the usual Christmas decoration with three candles is shown standing in some wheat with fruit (oranges, nuts) on the right, and the Badnjak - the pieces of oak - is at the bottom of the picture.