Walnut Potica *
Ingredients:
for the dough:

for the filling:
600 g flour
300-400 g walnuts
40 g fresh yeast
100 g honey
50 g butter
100 g sugar
1 egg
2 egg whites
2 egg yolks
40 g butter
50 g sugar
200 ml milk
200-300 ml milk
zest from 1 lemon
3 tablespoons of breadcrumbs
2 tablespoons of rum
zest from 1 lemon
1 tablespoon of ground cinnamon
salt to taste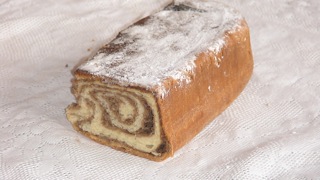 Photograph (c)2008 Peter Simonič
Preparation:
Put the flour into a bowl, cover, and leave somewhere warm. Crumble the fresh yeast into a bowl, and mix in two tablespoons of lukewarm milk, two tablespoons of flour, and one teaspoon of sugar. Mix and leave somewhere warm until frothy. Beat the butter, egg yolks, and sugar until creamy. Grate the lemon for its zest. Warm the milk, then add salt, the lemon zest, and the egg mixture. Mix the flour, the yeast mixture, and the milk and egg mixture into a dough, which should not be too dry. Keep kneading the dough until it slides easily off a wooden spoon and away from the edge of the bowl. Cover with a cloth and place somewhere warm to rise until it is at least double its original size.
For the filling, first grind the walnuts, and while the dough is rising, heat the milk, add half the butter and half the sugar, and bring to the boil. Pour the liquid over the ground walnuts. Bring the honey to near boiling point and add to the milk mixture. Grate and add the lemon zest, and then the cinnamon and rum. Leave this to cool until the dough has doubled in size. When it is cool and the dough risen, beat the egg whites with the remaining sugar until stiff; then carefully fold the cooled walnut mixture into the egg whites. Lightly stir in the remaining melted butter.
Now, roll the risen dough flat to about the thickness of a finger. Spread the dough with the filling, roll it up tightly, and place the roll in a greased baking tin that has been sprinkled with breadcrumbs. Leave it in a warm place to rise once more. Brush beaten egg on the surface of the roll. Bake for approximately an hour at 180o C. When it is ready, take it immediately out of the baking tin to stop it from getting damp and to prevent the crust from coming off. Place on a wire tray to cool.
* Source of recipe: Adamje, S. and Bogataj, J. (2006) The Cuisine of Slovenia, Rokus Gifts, Ljubljana,with some editing of their wording.