Besugo a la Vinagreta (baked sea bream in a vinegar sauce)
Ingredients:
1 sea bream of about 1 kg
olive oil
1 lemon
1 bay leaf
1 small glass of white wine
2 or 3 cloves of garlic
4 tablespoons of breadcrumbs
Parsley
Salt to taste
1 small glass of vinegar

Preparation:
First gut the fish, leaving on the head and tail. Clean the fish with a cloth. Make 4 or 5 cuts into one side of the fish. Put one slice of lemon into each cut. Then put the fish into an oven-proof earthenware or other roasting dish also suitable for the table. Season the fish with the olive oil, a little salt and the juice of the rest of the lemon. Add the bay leaf and the white wine.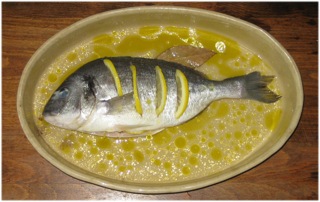 Photograph (c)2008 Helen Macbeth
Uncooked sea bream ready for baking
Bake the fish in the oven at a high temperature, every now and then spooning the juices over the fish. When it is almost cooked, scatter breadcrumbs mixed with parsley over the fish.
Meanwhile, fry two or three cloves of garlic in a frying pan with some 4 tablespoons of olive oil. Take the frying pan off the fire when the garlic cloves are golden and add a very little paprika and a small glass of vinegar. Beat this mixture with a fork until it is a sauce.
When the fish is cooked and the breadcrumbs are golden brown, take it out of the oven and remove the bay leaf. Keeping the fish in its same ovenproof dish, pour the garlic sauce over the fish, and serve hot.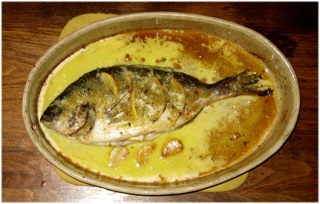 Photograph (c)2008 Helen Macbeth
Baked sea bream ready to serve