Chapon farci de Noël (stuffed Christmas capon)
Ingredients:

| | |
| --- | --- |
| For the roast: | For the stuffing: |
| one 3 kg. capon | 1 small egg |
| some black truffle, if available | 200g pork sausage meat |
| | 100g chicken livers |
| | 1 small white onion |
| | 1 large apple |
| | 10 cooked sweet chestnuts |
| | some pine nuts |
| | 50g raisins |
| | 1 glass of soured wine (old Banyuls |
| | or Maury or Rivesaltes), or failing |
| Serve with: | that 1 glass of wine with a bit of |
| a little chopped parsley | vinegar |
| 1 kg bottled or canned salsify | salt, pepper, cinnamon, nutmeg to taste |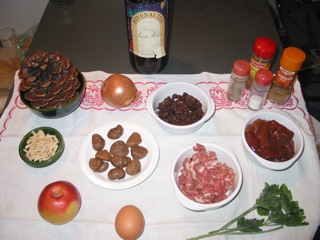 Photograph (c)2008 Hélène Vergé
Preparation :
Several hours in advance soak the raisins in lukewarm wine. Chop the onions finely and fry gently in a little oil until golden. Chop the apple and chestnuts coarsely. Add the chicken liver, apple, pine nuts and chestnut pieces to the onions, cover and cook gently for 3 minutes. Mix the sausage meat, beaten egg, softened raisins (keep the wine they were soaked in) and chopped parsley and then add this mixture to the liver, apple and chestnut mixture. Add salt and pepper to taste and a pinch each of cinnamon and of ground nutmeg. Put the stuffing into the cavity of the capon and sew up the orifice. If one has any pieces of truffle, chop these into fine slivers and insert them under the skin of the bird (optional).
Place the stuffed capon into a large, deep oven dish with some 20 cl of boiling water and cover. Put this in a very hot oven (240°C) for about half an hour. Then, lower the temperature of the oven to 80°C, take off the cover of the oven dish and leave to cook for 2 hours, basting the bird from time to time. Finally degrease the capon with a little sour wine and leave it to rest in the oven until one is ready to carve. Put the bird on to a carving dish and the juices into a sauceboat.
Sauté the salsify in a little butter and sprinkle with parsley. Serve the carved meat with the stuffing and the salsify. Wine to accompany this dish would be a rather tannic wine, as is typical of many wines from Roussillon.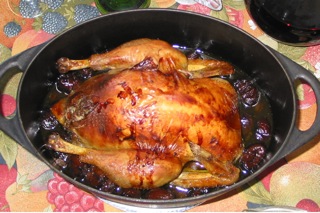 Photograph (c)2008 Hélène Vergé