Uszka
(Literally 'Little Ears', taking its name from the shape of the pasta parcels)
Ingredients:
For the dough:

For the filling:
100g strong plain white flour
Handful of dried mushrooms (chanterelles are best!)
Salt
2 handfuls fresh breadcrumbs
1 egg
1 small onion grated
1 tablespoon water
25g butter
Beaten egg to seal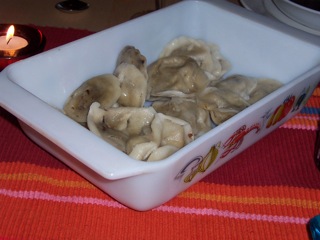 Photograph (c)2008 Ewa Czernuszewicz
Preparation:
Sift the flour with half a teaspoon of salt. Make a well and add the egg and water. Knead into a firm dough. Leave but cover with damp cloth so it does not dry out.
Make filling by simmering the mushrooms for 5 minutes. Drain but retain the liquid. Chop the mushrooms and add the breadcrumbs. Cook the onion in a little butter and add to the mushrooms and breadcrumbs. Then mix in some of the reserved liquid and season to taste.
Roll out the dough on a floured board. Cut into strips. Make these into squares. Place some filling in the centre of each square and brush edges with egg. Fold to make triangle and then put two corners together to make an 'uszek' or 'little ear'. Cook these in boiling salted water for about 3 minutes. Drain and serve with barszcz.