Pierogi (Pasta crescents stuffed with cheese and potato)
Ingredients:
For the dough:

For the filling:
100 g strong plain white flour
1 chopped onion
salt
1/2 teaspoon salt
1 egg
2 tablespoons butter
1 tablespoon water
1/4 teaspoon white pepper
beaten egg to seal
400g mashed potato (cooked and mashed with skin on)
Twarogowy ser (a rich cottage cheese or grated hard cheese)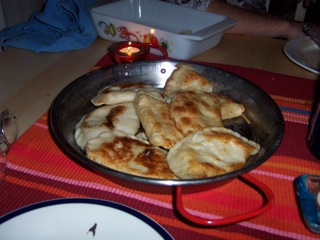 Photograph (c)2008 Ewa Czernuszewicz
Preparation:
The pasta crescents should be prepared the day before frying. For these, sift the flour with half a teaspoon of salt. Make a well, into which add the egg and water. Knead into a firm dough. Leave but cover with damp cloth so it does not dry out.
Mix all the filling ingredients together.
Roll out the dough on a floured board. Cut into rounds. Place some filling in the centre of each round and brush the edges with egg. Fold over to make a semicircle and crimp edges with your fingers. Cook these in boiling salted water for about 3 minutes until they float to the top.
For Wigilia, these pasta crescents should be fried lightly until golden brown and served with sour cream sweetened with a little sugar.